The past year of the pandemic has been a tremendous time of growth and learning for Food from the Heart.
Serving More Together
Food from the Heart has opened up new collaborations with 8 new community partners this year to extend our reach to more beneficiaries. We gave out more than 111,000 food packs in 2021, over 14,000 more than in 2020, while Project Belanja! saw a redemption of 59,000 meals this year. We also brought our Community Shop concept to the West when we opened our Community Shop @ Boon Lay in March this year.
Evening volunteer sessions for food sorting and packing have been opened to keep up with this increased rate of giving, and some of our regular volunteers have also stepped up to the plate to lead the newer ones. Together, from collecting and re-distributing bread, making door-to-door deliveries, warehouse sorting and packing to manning the two Community Shops we clocked a record total of 41,000 volunteer hours this year.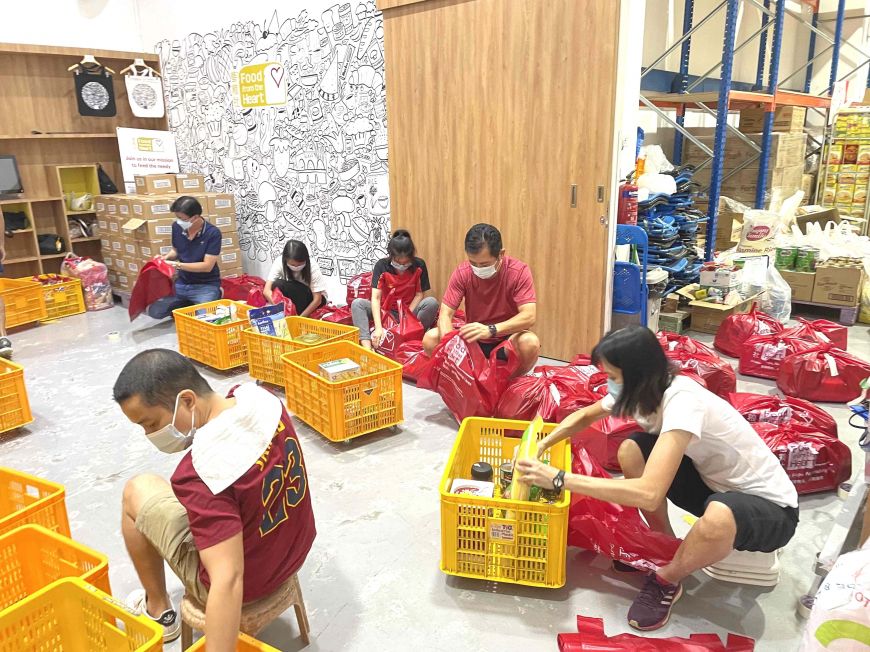 Food from the Heart volunteers packing food packs at the warehouse
Giving Better
Beyond the ever-increasing number of food packs and adding items to our Community Food Packs last year, we've gone on to improve the nutritional quality of the items in them through initiatives like Farms to Families, where fresh local produce is made accessible to our beneficiaries. We have also managed to opt for healthier choice items for our Community Food Packs, which have maintained their 'COVID upsize' from 8 to 12 food items throughout the year.
Improving Efficiency through Digitalisation
We've also gone further in our digitalisation journey with tablets and hand-held scanners to log our deliveries and food inventory. The tablets have helped us keep track of delivery information via a customised inventory-tracking system while barcode scanning has made our volunteers' food sorting experience faster and more seamless. Previously, food donations and inventory were tracked manually on paper; volunteers would have to fill in the day's particulars on a form, find the names of the items that they were counting and add up the numbers. With the new system, items are recorded in our system with each barcode scan.
Gleaning insights from the data we have collected from our Community Shops, we are able to better understand and serve our beneficiaries.
Upcoming Plans for 2022
Food from the Heart will continue expanding our reach to help more needy families.
We will also be working on translating our belief in giving into giving better support for our beneficiaries through different ways, and also making the giving experience more convenient and fulfilling for our supporters.
How will you give better in 2022?