What is it?
The Community Shop (善粮小铺) is a mini-mart for its beneficiaries and operates on a shop-for-free concept.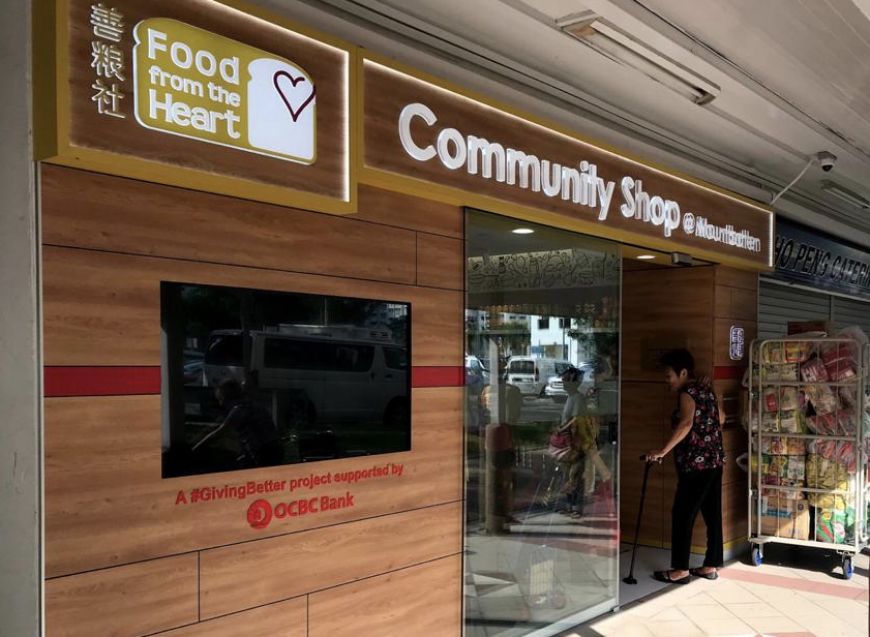 How does it work?
Food from the Heart's beneficiaries are empowered to choose 12 food items from the racks each month and can visit the Shop on multiple occasions throughout the month. Food items include staples, canned food, bread spreads, biscuits, oil and condiments, all of which will allow beneficiaries to eat better.
The food items are redeemed through the beneficiaries' cards via a QR code-scanning checkout system.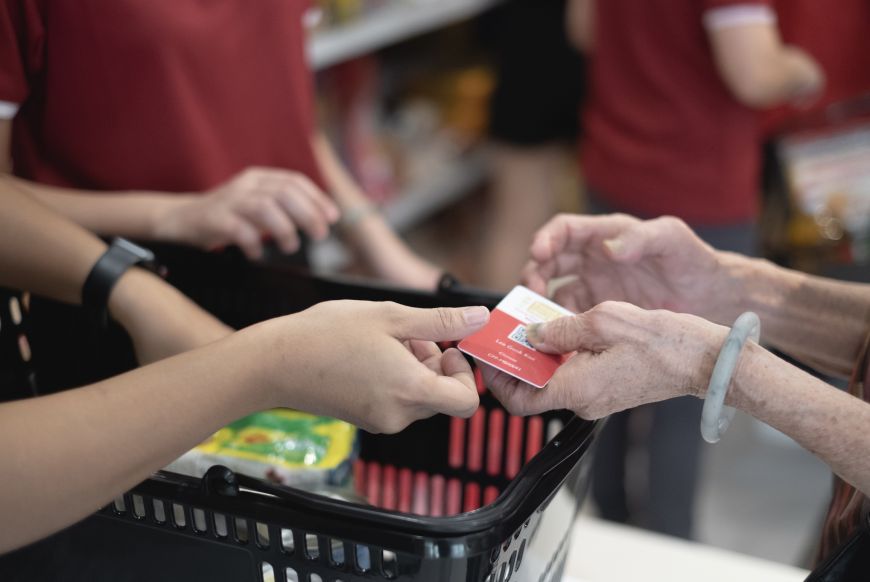 Giving Better
The Community Shop is one of Food from the Heart's milestone initiatives towards giving better by returning the dignity of choice to the needy; at the Shop, they are able to choose food items that they require instead of receiving standard food packages. This mental aspect helps to close the increasing gap in Singapore's standards of living; the experience of shopping allows them to see the range of products available at the Shop, compare them, and choose what they want to bring home.
The Shop gives the beneficiaries a reason to get out of their homes to have more interaction with others, creating opportunities for the community to look out for one another. Its food drop, which allows donors to drop off food donations, at the Shop further keeps the kampung spirit alive within the neighbourhood.
The Community Shop concept also results in less food waste as the beneficiaries are likely to finish all the items they chose themselves.
Through the QR code-scanning checkout system, Food from the Heart is able to digitally gather data the consumption needs and patterns of its beneficiaries. With such insights, Food from the Heart understand dietary habits will also help us shape the future landscape in food distribution efforts. We hope to create an entire eco-system connecting donors, sponsors, volunteers and beneficiaries.

Locations
Community Shop @ Mountbatten serves 5,000 benefitting households islandwide including 120 households from Mountbatten SMC and 400 households from Macpherson SMC and Marine Parade GRC.
The Shop is located at Blk 13 Old Airport Road #01-57, open every Tuesday, Thursday and Saturday from 9.30am to 12.30pm and by appointment for beneficiaries coming in groups.
Community Shop @ Boon Lay is located at Blk 176 Boon Lay Drive #01-366 S640176. The Shop officially opened on 24 March 2021 and operates every Tuesday, Thursday and Saturday from 9.30am to 12.30pm.