In-kind food donation is one way to support low income families, the elderly and others in need in Singapore. We accept food doantions at our office Mondays to Fridays, 9am - 6pm. Some donors also order food through online grocers, FairPrice and RedMart, and arrange delivery directly to our office.
There is also a donation box outside our office where non-perishable food can be dropped off when our office is closed.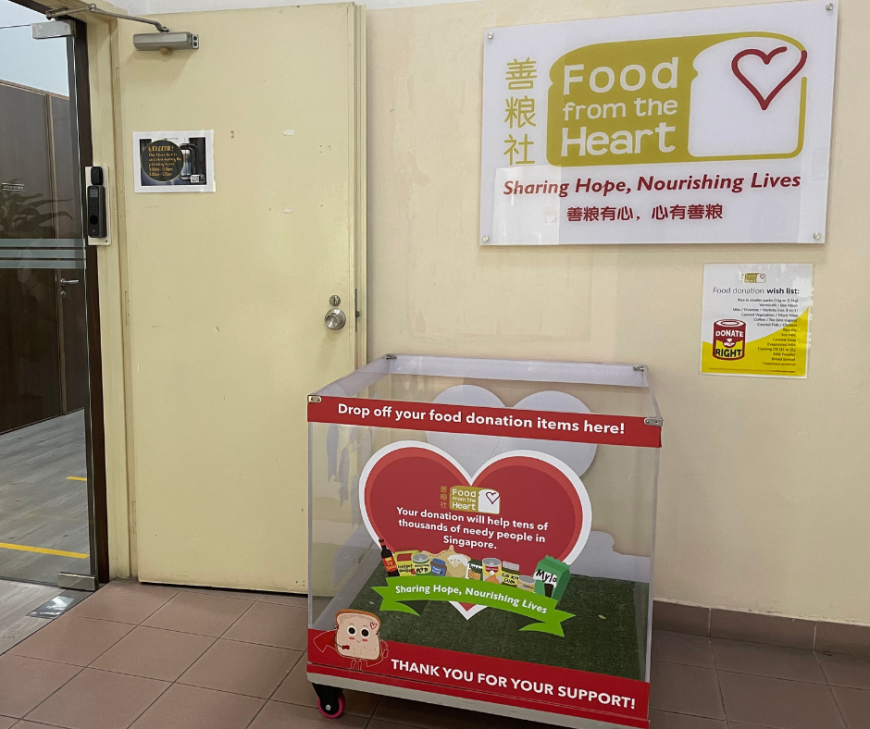 Each Food from the Heart Community Shop also has a 24/7 food drop, which allows donors to drop off food donations at the Shop. This helps to keep the kampung spirit alive within the neighbourhood.
Thank you for your support!
Food Donation Wish Lists
Community Food Pack Wish List
Rice, 1kg or 2kg
Vermicelli/bee hoon
Biscuits, less sugar*
Malt drinks, less sugar, e.g. Milo*
Coffee or tea, less sugar*
Canned fish/meat*
Canned vegetables - especially beans, mushrooms, peas*
Canned mock meat
Canned soup
Canned fruit
Evaporated/condensed milk
Cooking oil, 500ml or 1L
Bread spread
*Priority items
Community Shops Wish List (Locations here)
Coffee in Sachets (All flavours)
Tea in Sachets (All flavours)
Milo 3-in-1
Assorted canned pork products
Assorted Biscuits
Canned Fruits
Canned fried dace/ Sardines
Rice 2.5kg - 5kg
Cooking Oil 1L
The below items are accepted but can only be donated during shop opening hours:
Packed fresh fruit
Chilled Juice/ Milk
Eggs
*Food from the Heart requires all food donations to be dated at least 3 months before expiry.
Donate Straight to Food from the Heart
Donate food for families straight to our warehouse and pass the items to our staff in charge, Kelvin. Should you be unable to deliver the items within during our operating hours, please leave them in our food donation box outside our door.
Address: 130 Joo Seng Road #03-01 Singapore 368357
Operating hours: Monday - Friday, 9am - 6pm
Contact no.: 6280 4483
Making an online food donation in Singapore
We also welcome cash contributions from anyone who wants to be a part of our mission. Our dedicated team will put your online donation towards safe-to-eat food for our beneficiaries and critical operating costs, helping our staff and volunteers battle hunger in Singapore. Make a donation today and make a difference in the lives of those less fortunate.
Toy Donation Wish List
(Currently not collecting DUE TO COVID-19)
Sports equipment

Scooter

Board games

DIY kits

Construction blocks
Collected toys will be distributed to children aged 6-12 years old. New toys are preferred and pre-loved toys in good condition are welcome. We politely request to not receive pre-loved stuffed toys and jigsaw puzzles.
Where to Donate Toys in Singapore
Deliver your toy donations straight to the Food from the Heart warehouse during operating hours.
Address: 130 Joo Seng Road #03-01 Singapore 368357
Operating hours: Monday - Friday, 9am - 6pm
For other types of in-kind donations, requests to organise a donation drive for Food from the Heart and further enquiries, please leave us a message here.
We welcome donors to make an online cash donations to us. You can make the cash donation via giving.sg, our website or by addressing your cheque to Food from the Heart and mailing it to 130 Joo Seng Road #03-01 Singapore 368357.