Commemorating our 20th anniversary through the unveiling of a new logo, and a special tribute to Bread Run heroes
Food from the Heart is celebrating our 20th anniversary this year, an incredible milestone for a homegrown, independent food charity. For two decades, we have been consistently supporting the less-fortunate in Singapore through our food support programmes.
In 2003, our Founders started the charity by rallying members of the public to help to redistribute unsold bread from bakeries to welfare homes, thus establishing the Bread Run programme. Since then, the programme has made tremendous positive environmental and societal impact. Last year alone, 174,000 kilograms of bread was saved and redistributed to more than 13,500 individuals.
Come join us on Sunday, 15 October 2023, from 10.30am at i12 Katong Level 1 Atrium!
Beyond our well-established food support programmes and initiatives, we are most proud of the strong partnerships and sense of community that we have forged with grassroots leaders, corporates and advocates. Thus, this event is also a rare community outreach opportunity for us to meet our benevolent volunteers, donors and supporters!
Special thanks to
Come early to show support for Bread Run, our longest running programme which has made a positive impact on food waste reduction for 20 years, since its inception. Witness the reveal of our new logo in an attempt for the Singapore Book of Records!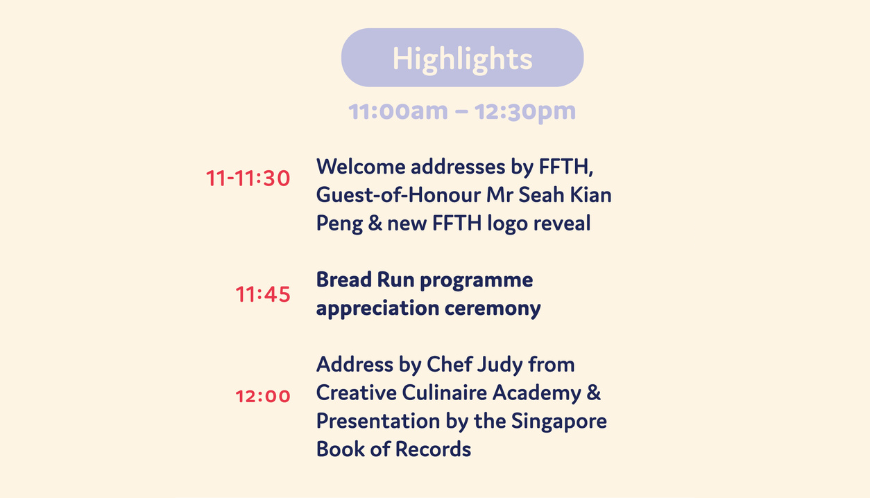 Many pairs of hands have come together to bring our idea to life: This audacious and arduous attempt at making a record-breaking statement would not have been possible without the support of these 13 generous bakeries and sponsors: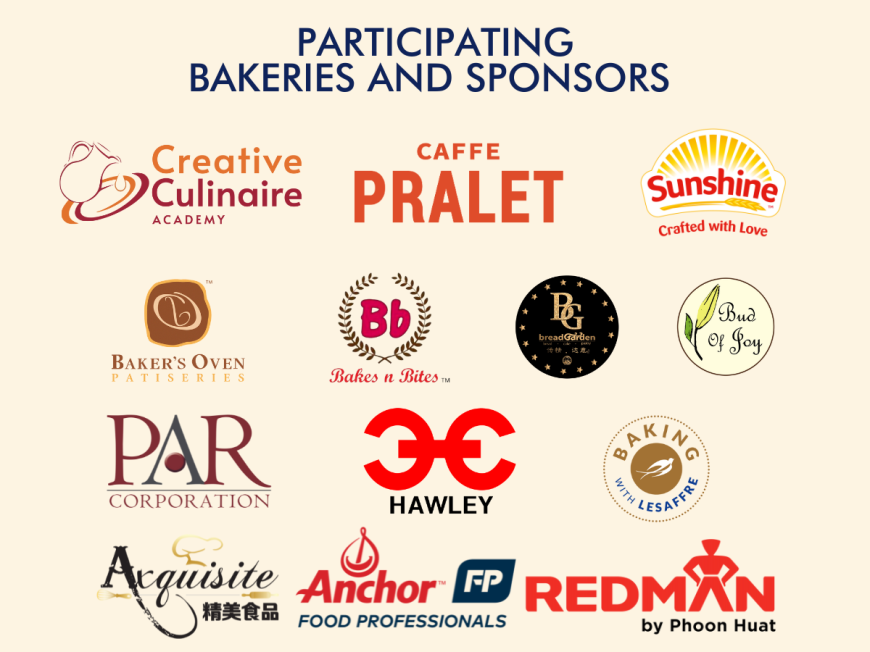 Look foward to an exciting line-up of fun-filled activities, curated to cater for all ages! Engage in these meaningful activities to learn more about Food from the Heart and how you can help vulnerable communities in need in Singapore. Plus, win prizes sponsored by Sunshine Bakeries and i12 Katong!
Exclusive for FFTH Family
Earn 1,000 KLIK points (worth $5!) when you download i12 Katong's KLIK app and sign up as a member with promo code FFTH. KLIK points can be redeemed in exchange for e-vouchers or carpark credits at the shopping mall.
For new KLIK membership sign-ups only
Limited to the first 500 sign-ups
Valid from 6 - 31 October 2023
Download the KLIK by Keppel APP now on Apple Store and Google Play Store.
We'll see you there!