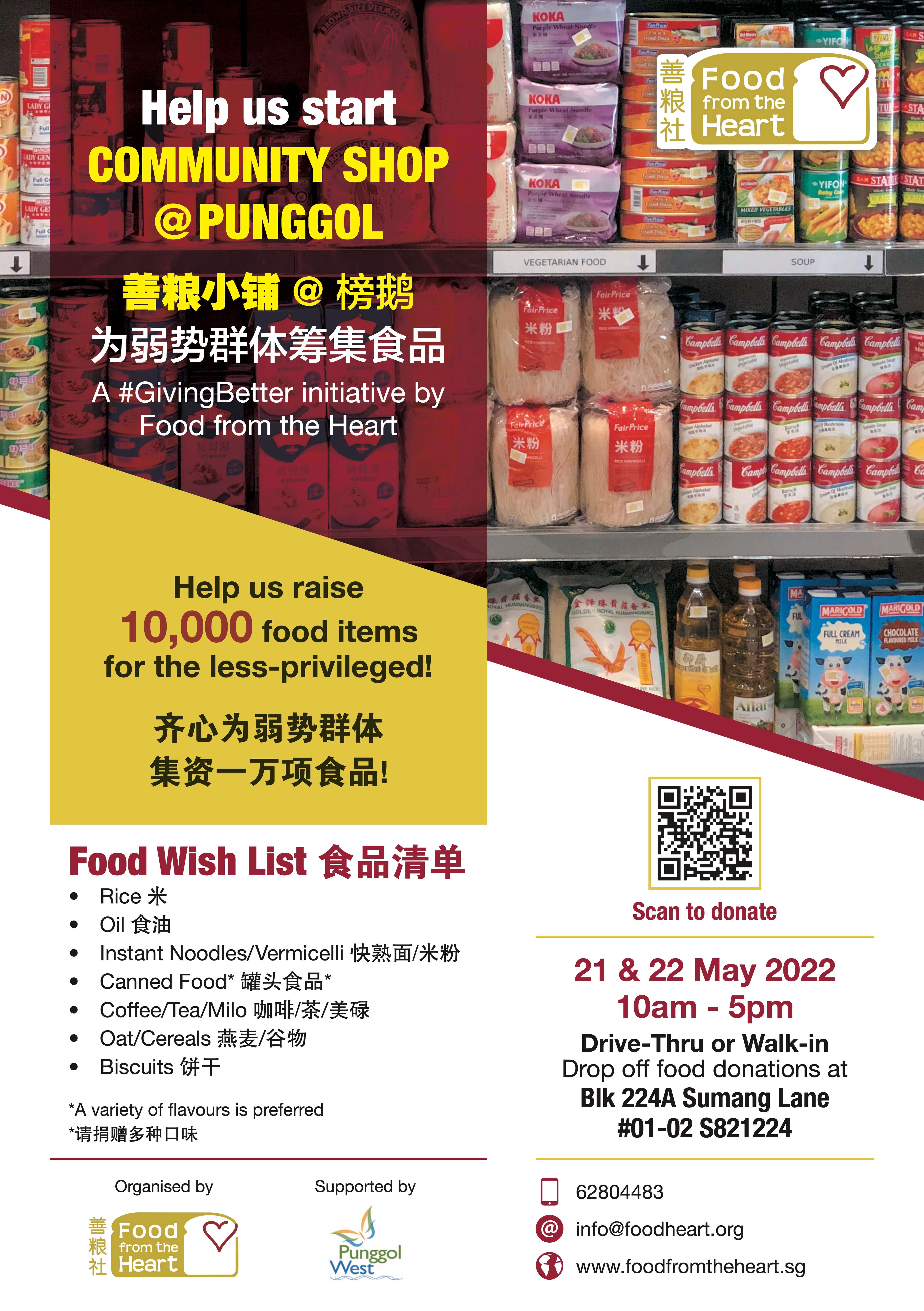 We are opening our fourth Community Shop, this time in Punggol!
Help us raise 10,000 food items at our food drive for the new Shop by dropping your donations off. And for the first time, we will have a Drive-Thru donation where Staff and volunteers will help you unload from your car.
Drive-Thru Food Donation Drive Details
21 & 22 May (Saturday & Sunday), 10am - 5pm

Community Shop @ Punggol, Blk 224A Sumang Lane, #01-02, S821224
Full Food Wish List:
Staple Food
Rice, 2-5kg
Brown Rice, 2-5kg
Assorted Instant Noodle, 5-pack
Rice Vermicelli, 400g
Canned Foods
Baked Beans, 397-435g
Corn, 397-435g
Chicken Curry, 280g
Condensed Milk/ Sweetener, 380-400g
Evaporated Milk, 380-400g
Canned Fruits, 500g-565g
Mushrooms, 397-435g
Pickled Vegetables, 182g
Braised Peanut, 170g
Pork Products (Luncheon meat, Minced, Cube), 397-425g
Sardines, 397-435g
Tuna, 160g
Vegetarian Food, 280g
Beverages
Coffee, 15 Sachets
Milk, 1 liter
Milo, 18 Sachets
Tea
Oat/Instant Cereal, 400g
Cooking Items
Oil, 1litre
Sugar, 1kg
Salt, 500g
Spreads
Jam, 401-500g
Peanut Butter, 450-599g
Kaya, 300-600g
Honey, 400g
Others
Assorted Biscuits, 300g to 700g
Cornflakes, 350g onwards
What if I cannot make it for the food drive?
You can contribute to the food drive by ordering food donations online and sending them to the Shop on the days of the food drive. Deliveries to the Shop can also be made between shop opening hours of 9.30am - 12.30pm on Tuesdays, Thursdays and Saturdays except for Public Holidays from 31 May onwards.
You can also make a cash donation online to help us fill our shelves.
Find out more on how we're Giving Better through our Community Shop initiative.
We look forward to your support!