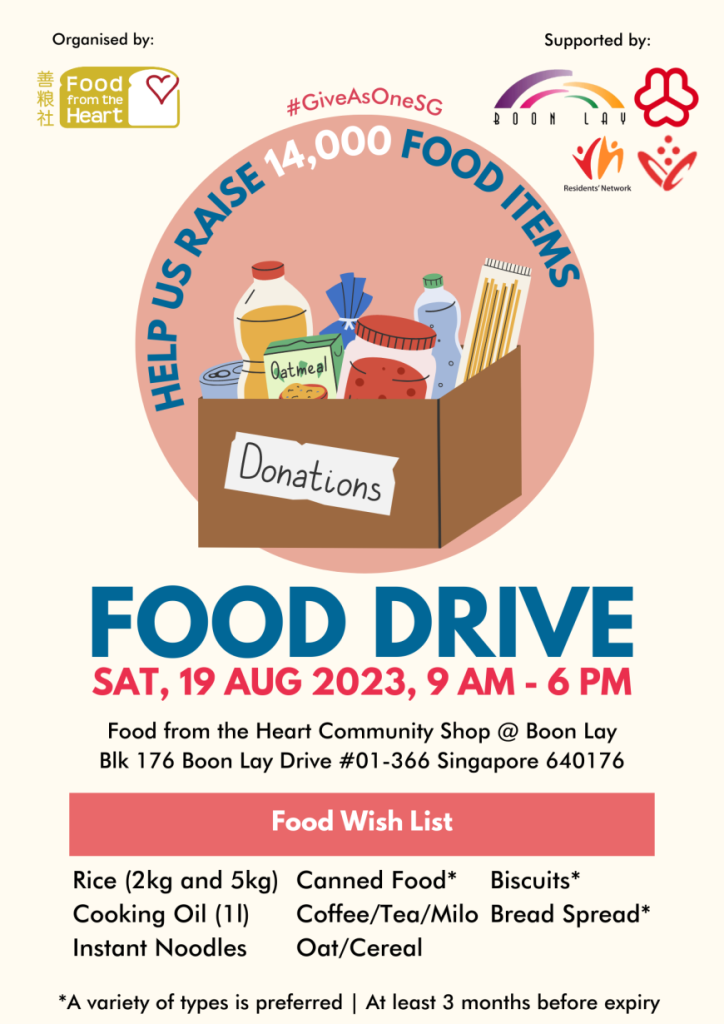 31 Aug 2023 update: We blasted waaaay past our goal, raising over 19,500 food items through this food donation drive! We're grateful for the overwhelming support!
Donating food is an immediate and tangible way to help someone. Come together to help us raise 14,000 food items to feed communities in need! We'll see you there!
1. Come Down to Show Your Support
Giving is something we can do as individuals, no matter how small. It reflects fundamentally who are are as a person, who we want to be and the kind of society we want to live in. In other words, giving is a collective responsibility. It allows us to be part of something bigger than ourselves and purposeful.
Come on down to Food from the Heart's Community Shop @ Boon Lay at Blk 176 Boon Lay Drive #01-366 Singapore 640176 on Saturday, 19 August with your food donations.
If you're driving through to donate, there is a sheltered drop-off point next to Blk 177. We'll be there to collect food items from your vehicle.
2. Order Food From Your Preferred Online Grocer to Donate
Order food items on our wish list from your preferred online grocer and arrange delivery directly to the food drive. With the help of volunteers, our team will be there to receive, sort and record the food donations.
3. Cash Donations Are Welcomed Too
Cash donations tie us over when we fall short of donated food items. We hope that you can consider making a charitable donation through this this Giving.sg campaign, where your donations will be matched!
It is a safe and seamless way to help families in need with food support. Plus, cash donations to Food from the Heart are eligible for 250% tax deduction.
4. Share with Friends and Family
Spread the word to generate awareness for us! Look out for our posts on social media and repost to share. Remember to save the date in your calendar!