Do you use TikTok?
Neither does our Project Belanja! beneficiary, Mdm Serene Tan. She does, however, know how to use a food delivery app as a delivery agent – something that she had just learned out of necessity two months ago to start delivering meals.
Braving the Sun, Rain and Technology
At 72 years old and barely understanding English, it was not easy. It was only with plenty of guidance and determination that she managed to start taking on jobs on her own. Since then, Mdm Tan has been spending an average of four hours every other day taking up jobs on her mobility device to make ends meet.
Like her cyclist food delivery counterparts, Mdm Tan also has to contend with unpredictable weather, "It's sunny when I accept the job, but if it rains halfway through, I have to cancel!" She also sometimes faces confusing instructions from customers needs to raise them to the delivery service provider, which she has difficulty with.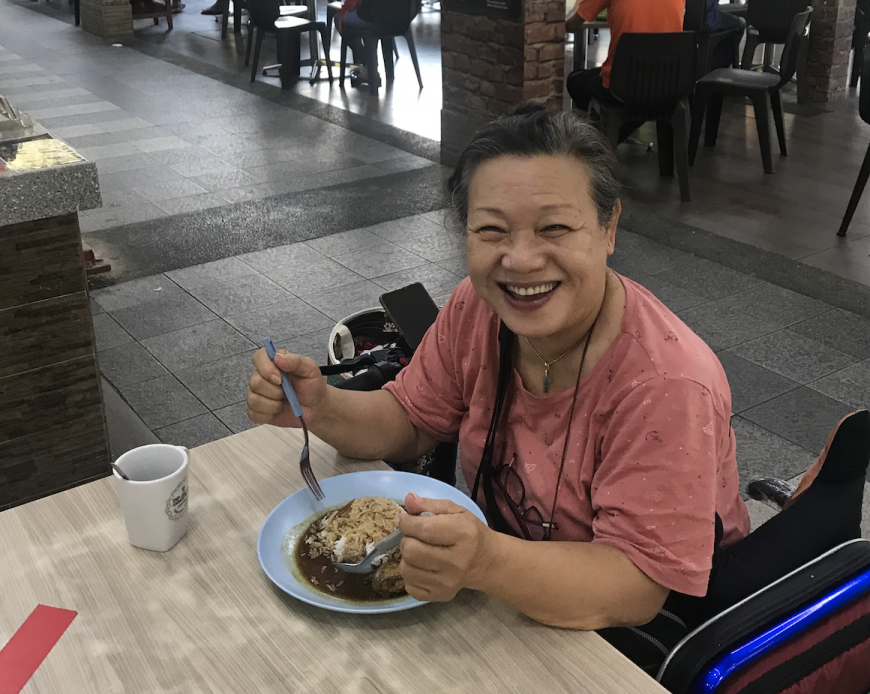 Mdm Tan enjoying an early dinner.
Standing for Extended Periods is a Problem
Still, Mdm Tan perseveres. Fraught with multiple bodily ailments, she is no longer able to continue her previous job of being a taxi driver. She even has difficulty standing for extended periods to cook due to the intense pain from her spinal disc deterioration, which is also why she found Food from the Heart's hot meals initiative Project Belanja! well-suited to her needs.
Mdm Tan stays alone and is responsible for her own meals. Since moving into her rental flat in 2018, Mdm Tan has relied on Food from the Heart's food aid, which includes the Community Food Pack. As it does not last her the full month, Mdm Tan was glad that Project Belanja! was launched near her home shortly after, in January 2019. The proximity of the stalls to her home and the familiarity of the area allows her to redeem her meals with greater ease and convenience.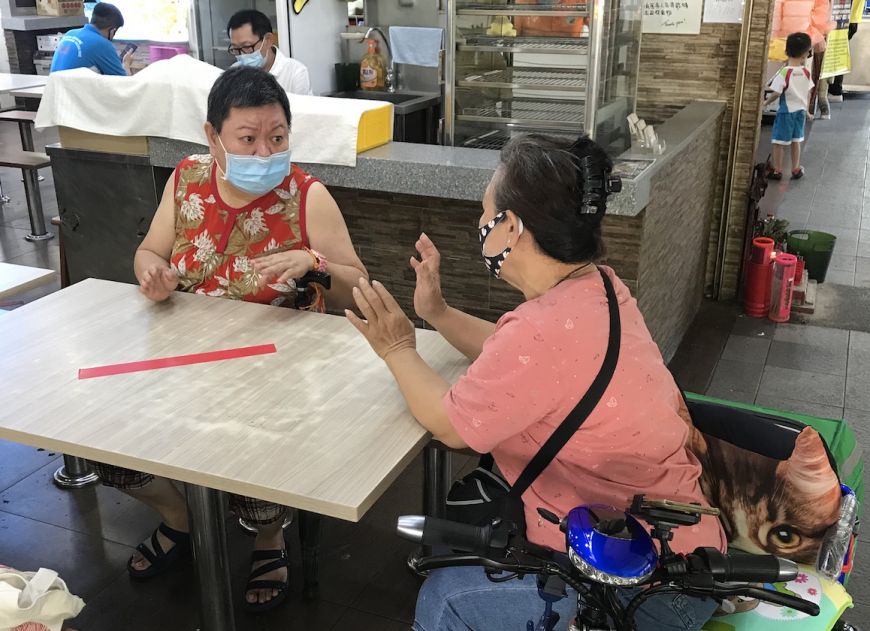 Mdm Tan (right) chatting with a fellow beneficiary before they redeem their meals.
Project Belanja! Provides More than Just Food
1.5 years later, Mdm Tan is still a regular beneficiary of Project Belanja! and has made friends with the stall vendors – a sign that the initiative has achieved its objective of serving its beneficiaries better with more aid, more variety, the element of choice, and a reason to interact with others outside their homes.
However, more can be done. Project Belanja! now exists at four locations, and Food from the Heart seeks to launch more locations islandwide to cater to all our beneficiaries through partnerships with more hawker stalls and coffeeshops, which will be reimbursed with funds for the meals redeemed.
Food from the Heart has an ongoing fundraiser for Project Belanja! that will be matched with $100,000 from Tote Board when we hit our goal of raising $250,000. Help us get closer to our goal with a donation towards Project Belanja! now.