To better serve our beneficiaries, Food from the Heart has been ramping up its digitalisation process the past few years; from food distribution operations to volunteer-assignment systems to fundraising platforms, and more.
This month, we trialed and rolled out our new food donation management system.
Impact on Volunteers
The barcode scanning capability has made our volunteers' food sorting experience faster and more seamless. Previously, food donations and inventory were tracked manually on paper; one would have to fill in the day's particulars on a form, find the names of the items that they were counting and add up the numbers. With the new system, items are recorded in our system with each barcode scan.
Our volunteer Ryan shares his experience, "When I started volunteering at Food from the Heart in March this year, I had to record the food donations by pen and paper. In addition to it being error-prone, it was also quite tiring on the eyes to find the correct item category, name and weight. Because of the nature of the sorting process, we also had to constantly correct what we wrote, which made it a messy experience. Now that we're using the barcode scanner, it's less fussy to handle and items are recognised by the system instantly. This cuts 70% of the work, especially for new volunteers who are unfamiliar with the forms."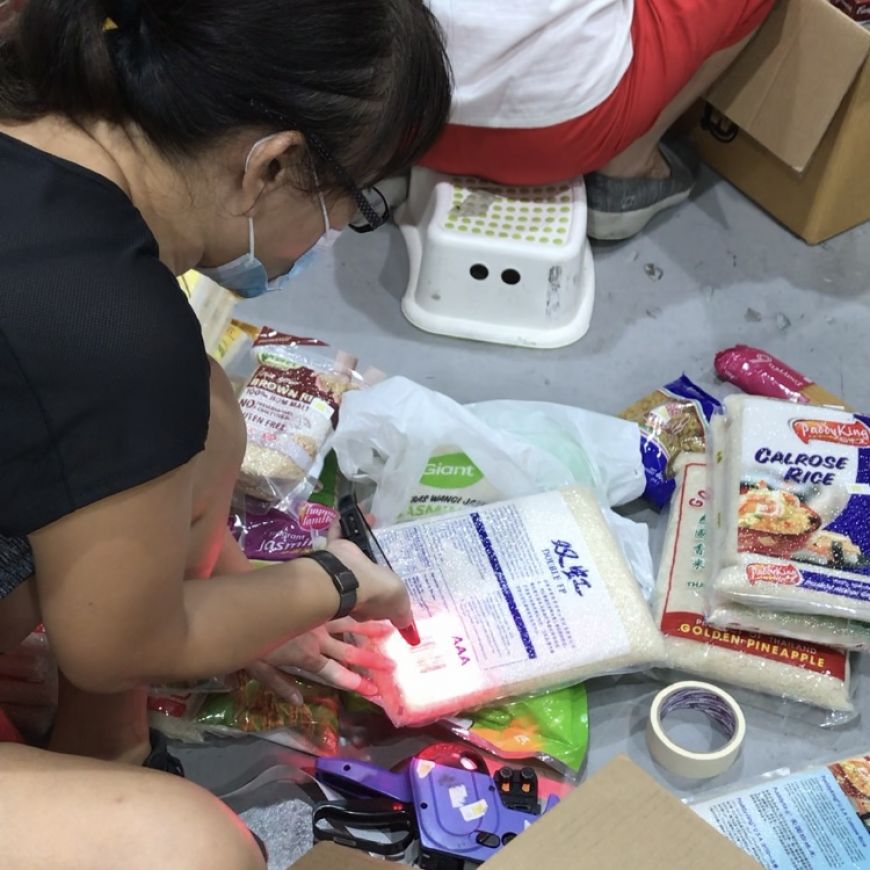 Food from the Heart volunteer sorting food donations with the barcode scanner
In the backend system, we're able to see immediately what was accomplished each day – a useful reporting function required to share with our volunteers who are curious what their efforts have amounted to. They have, after all, spent their precious time with us!
Impact on Staff
This new process allows Food from the Heart to access the full list of its inventory, which provides us with insights of the items that we receive, as well as their quantities. Decisions such as what other food to purchase and what items we should be asking for can then be made.
"Before this, I was spending about five hours a week, every week, keying the donation information in backend. Now, the data is all saved on the system by volunteers so there's no more double work and I can concentrate on other tasks!" our Programme Executive Mei Qi explains.
Being able to assign a dollar value to each item within the system, we're able to quickly estimate the value of our donations, which are essential when accounting for our resources. This has been a longstanding practice at Food from the Heart as we believe in being responsible for the donations we receive, and how we use them.
Inventory can be put into virtual baskets and assigned to different programmes and delivery locations within the system. Knowing when what inventory will be used and where they need to be sent to helps the operations team better manage their schedule and organise warehousing.
In tandem with rolling out our new food donation management system, Food from the Heart has also been working on updating our existing Bread Run app and programme management processes.
Timothy, Senior Manager, IT and Facilities shares a glimpse of what he hopes to achieve for Food from the Heart, "Some other areas we are exploring are how to help our drivers make more efficient deliveries and improving communications between our partners and volunteers for our Bread Run programme. We're always looking ahead and thinking about how to improve how we work because these improvements will enable us better serve our beneficiaries."
As Food from the Heart continues with our digital transformation journey, we hope to provide better accountability and an improved experience to our supporters. Follow us on Facebook and Instagram to receive our latest updates!