Food from the Heart serves as a connector and hub for food donations. We work with partners and corporations and transform their support, which come in different forms, into tangible food that is distributed among needy households.
As a food charity connecting the dots, we come across many different voices within the social service community, each with their own role to play and unique perspective to share:
"The School Goodie Bag food pack has helped us save on our grocery bills. I am very grateful for FFTH's support over the last four years, especially since they have included more nutritious items like milk in the food pack. My kids need to have breakfast for energy and they have it with cereal, which is also given."
Teo Lee Yan, Food from the Heart Beneficiary, School Goodie Bag Programme
It's easy – they just scan my card and I get my dish. This stall has a lot of variety so I don't have to eat the same thing every day. My wife and I come down together. Sometimes I exchange ingredients with her.
Her Yam, Food from the Heart Beneficiary, Project Belanja!
Food from the Heart's charity spirit has been a key pillar of Marsiling's efforts to uplift our vulnerable families. Food from the Heart's monthly food packs give our lower-income households an assured supply of food items for their meals. The fresh produce provided, such as milk, fresh fruit, eggs and vegetables provide our residents with a healthy and nutritional diet.
Food from the Heart's support helps our vulnerable families with their basic needs and gives them a peace of mind for their well-being.
We are proud to have Food from the Heart as our partner for our Marsiling Cares initiative, and really thankful for their support.
Zaqy Mohamad,

Adviser to Marsiling-Yew Tee GRC Grassroots Organisations (Marsiling),

Senior Minister of State for Defence and Manpower

Food from the Heart was nominated by Marsiling-Yew Tee GRC for the People's Association Community Spirit Merit Award for Year 2020
Remember that no storm lasts forever. Hold on, be brave, have faith! Every storm is temporary and you are never alone. :D
Words from an Anonymous Food from the Heart Donor to Food from the Heart Beneficiaries
"Thank you for the food pack. I like using the potatoes, corn and carrots to make delicious ABC soup!"
Mdm Lim Ah Siew, Food from the Heart Beneficiary, Community Food Pack Programme
Every little bit helps, so we're glad to do our part. It's heartening to know that there are Singaporeans (other than us) are doing this too. Every little bit counts, because even if the beneficiaries don't seem to be in bad health, generally I think they still welcome the company. Sometimes a little bit of human touch goes a long way.
Ben and Kat, Food from the Heart Volunteers, Food Pack Delivery
I was looking for a meaningful and fulfilling way to spend my time. I happen to have a car so I started doing Bread Runs with it.
Sangili, Food from the Heart Volunteer, Bread Run
"The logistical work at Food from the Heart is as necessary as doing your regular grocery shopping - you have to do it. If no one steps forward to volunteer, they will have nothing to eat. This is regardless of the COVID-19 situation."
Elsie, Food from the Heart Volunteer, Warehouse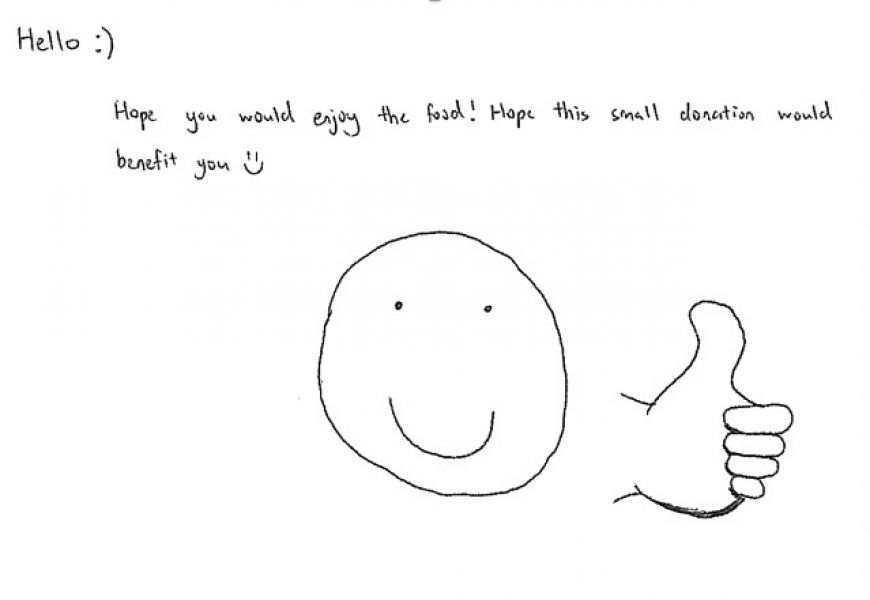 Card from an Anonymous Food from the Heart Donor
I prefer to choose the items myself, because I can take things that I will use. The shop has plenty of useful items to choose from, and I can even select the brands.
Ahmad Maricar, Food from the Heart Beneficiary, Community Shop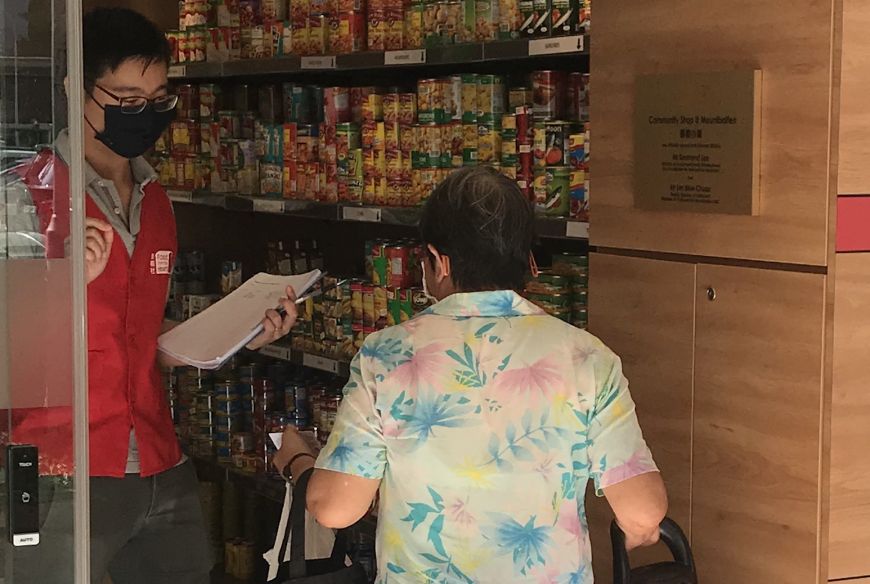 It's fulfilling to see beneficiaries walk out happily with the items they have chosen. It is also great to meet and connect with donors who check in on what we need. Overall, seeing the warmth and care within the community inspires me.
Galvin, Food from the Heart Volunteer, Community Shop