This month Food from the Heart officially partners The Local Farm by Gardenasia to launch our new fresh local produce initiative Farms to Families!
Starting January 2022, our 12-month pilot will see our Community Shop beneficiaries choose from a selection of seven items, including three types of green leafy vegetables, two types of mushrooms, quail eggs and eggs. Our Community Food Pack partners at Chong Pang and Kebun Bahru will receive The Local Farm pack with the 7 items.
Giving Better
Food from the Heart believes that there should be a benchmark to giving, which is healthy food with a reasonable length of time before expiry (read more: Donate Right). We also believe in giving a notch above that when there is a good "return on investment" – that is, when a small increment in cost brings disproportionately more joy and health benefits to our beneficiaries. Including fresh local produce is an opportunity to do just that as the food – which can be as fresh as within 1 – 2 days of harvest - is more nutritious and adds variety to the non-perishable food rations.
Not only does the initiative benefit our beneficiaries, it also supports our local farm businesses and sustainable farming. In the same way that food donations provide the needy with a level of food security, the partnership ensures long-term demand for the local farmers and gives them a better sense of business security. In turn, ordering local means that food support will not be disrupted or affected by border closures or supply chain bottlenecks.
Data from every redemption will be collected and orders to the farms will be tweaked subsequently according to demand. Feedback will also be collected every quarter to ensure the food support given is what the needy requires. In practising targeted-giving, Food from the Heart also hopes to minimise food waste.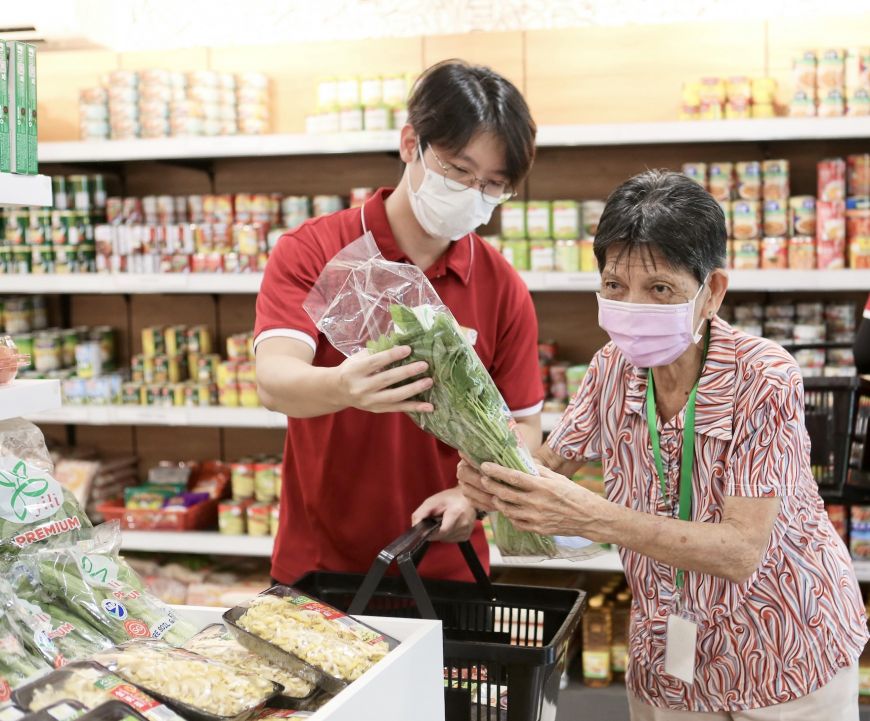 What our partners have had to say about the initiative
"This Campaign connects the local giving and farming eco-systems. Adding good quality local fresh produce into food support in a sustainable manner is a game changer. Food from the Heart's Community Shop @ Boon Lay serves about 600 families and had been visited regularly by our beneficiaries from the rental blocks. With the choices of fresh produce, beneficiaries can have better, balanced and nutritious meals." - Minister-in-charge of Social Services Integration and Boon Lay Grassroots Adviser, Mr Desmond Lee
"Farms to Families is a meaningful ground-up initiative to share fresh local produce with the community. Not only does it bring cheer to our beneficiaries, choosing local produce also reduces our carbon footprint and supports our local farmers in the agri-food sector. This is important as we work towards our '30 by 30' goal to meet 30 per cent of our nutritional needs locally and sustainably." - Mr Desmond Tan, Minister of State for Sustainability and the Environment
Food from the Heart always put beneficiaries' interest first. Having local fresh produce definitely enhances the way we render food support. It adds variety and our beneficiaries are looking forward to it. The challenge with handling fresh produce is to ensure it stays fresh when it reaches our beneficiaries. The last thing we want to do is to waste food that our farmers toil to produce. We look forward to working with Food from the Heart and The Local Farm to be more efficient in our last mile distribution." - Mr Leo Char, Food from the Heart's Community Food Pack partner at Chong Pang Community Club
How you can help
Help us keep this initiative going! Make a donation to help Food from the Heart purchase fresh produce from The Local Farm to feed the needy with more nutritious food whilst supporting local farm businesses today.
More about our #GivingBetter programmes
Community Shop – a shop-for-free minimart concept
Project Belanja! – a cooked food initiative