We are glad to announce that our Community Shop @ Punggol open its doors to serve its first beneficiaries this morning on May 31, 2022! The Shop was launched officially by Minister of State for Ministry of Education, and Ministry of Social and Family Development Ms. Sun Xueling, who is also the MP of Punggol West SMC and Advisor to Punggol West Grassroots Organisations (GROs). In attendance as well was Mr. Eric Chua, Parliamentary Secretary for Ministry of Social and Family Development, and Ministry of Culture, Community and Youth.
Community Shop @ Punggol, fourth of its kind, reaches the needy community in the North-East area of Singapore, in addition to our locations in Mountbatten (East), Boon Lay (West) and Lengkok Bahru (Central). Combined, all four Shops serve more than 2,000 households. The newest Shop currently serves more than 600 familes through our partnership with Punggol West. It is projected to serve 1,000 beneficiary households in the area.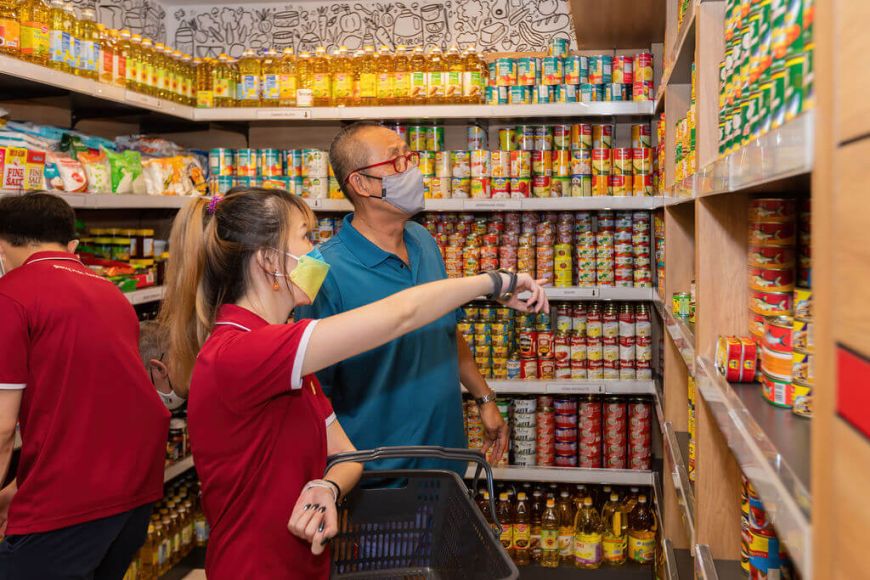 The Community Shop is Food from the Heart's (FFTH) initiative towards #GivingBetter by returning the dignity of choice to the needy. A survey conducted in January this year, amongst beneficiaries of our first two Shops, showed that the Community Shop is their preferred platform for food aid due to freedom to choose the food they need and convenience of its locations. The feedback is a testament to our decision of opening Community Shops in more locations.
Building Community Spirit
Despite leveraging on technology to run the Community Shops efficiently, the Shops have become avenues that foster social support: providing beneficiaries a great reason to get out of their homes to have more interaction with others, creating opportunities for the community to come together and help one another. During operational hours, the Shops are fully manned by FFTH's committed volunteers. Human-to-human touchpoints from personal greetings when they enter the Shop, help with their shopping baskets and reminder to use up their balance credits before the end of the month nurture a heartwarming environment and a shopping experience like none other.
FFTH's Community Shop initiative calls on the local community to help their neighbours in need. The Shop was filled with food from our Drive-Thru food donation drive held earlier in the month, which garnered 15,120 items, worth a total of $51,706 of food. Punggol residents, interest groups and home-based businesses and corporate partners have responded positively to our food drive for the Shop and has since donated almost daily via the the food drop.
The launch of Community Shop @ Punggol marks FFTH's and Punggol West GROs joint commitment to collaborate closely to rekindle the community spirit, so as to ensure the sustainability of the food supply to the new Shop. In his welcome address, our CEO Mr. Robin C. Lee, said "We want to ensure the sustainability of the food supply for the Shop early. Having the support of Ms. Sun Xueling and help from Punggol West GROs, we plan to rally the community by working closely with schools and merchants to garner food donations to keep the Community Shop well stocked to serve our increasing beneficiaries. This will also enable us to improve our efficiency with a shorter supply chain from donor to beneficiaries."
Minister of State Ms. Sun Xueling complimented the Community Shop as an excellent example of the power of giving, respect, dignity, and mutual self-help. She said "The Community Shop @ Punggol can serve up to 1,000 households in Punggol and will be helpful to families with costs of living. The Shop is a testament to a whole of society approach towards helping one another, with the government setting aside a suitable place for the Shop, the residents, community, and corporates coming together to donate food items to the Shop, and Food from the Heart providing the backbone and expertise to run the Shop. We are grateful to Food from the Heart for being our steadfast partner in Punggol."
We look forward to serving more, better - join us with a donation today!