Food from the Heart called out for food donations about a month ago because incoming food donations was low due to the ongoing pandemic.
Our appeal struck a chord with the public, and the word spread even further when it was picked up by popular media platform Mothership and several main media. Food donations poured in!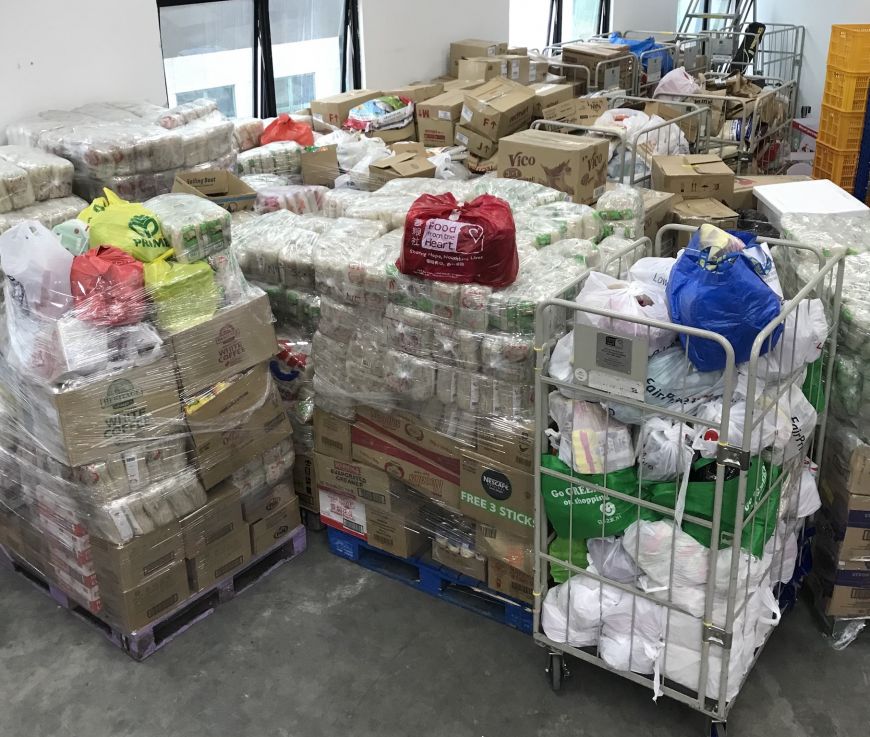 Incoming food donations at Food from the Heart
The event has encapsulated the giving spirit of our community, and Food from the Heart sincerely thanks all our donors for their generous support. Not only did the donations come in quickly, donors also thoughtfully considered our needs, referred to our wishlist and went the extra mile to ensure that their donations made a difference. We received a collectively large amount of rice and vermicelli, two prominent staples on our wishlist. Many also ordered online and arranged for food donations to be delivered to our warehouse, being mindful of minimising movements during the Phase 2 (Heightened Alert).
Does Food from the Heart still need food?
Yes, and no.
Food from the Heart will always need food donations as long as there are needy households to be served, as we believe in consistent and sustained giving.
"I know that I can count on Food from the Heart for support every month and I'm thankful for this. It helps to have one less thing to worry about," says Mdm Teo, Food from the Heart beneficiary.
Understanding how important food security is to the needy, Food from the Heart is committed to serving our beneficiaries long term. Our Community Food Pack programme, where our food donations go to, serves 8,500 households every month at this point of writing. This means that fresh donations are required each month to replenish the inventory that has been given out. With this in mind, we also manage our inventory to always maintain sufficient food buffer and funds so that we can feed our beneficiaries reliably on a sustainable basis.
With the outpouring of generosity of our donors, Food from the Heart faces the happy problem of having our warehouse capacity limit being overstretched this month. What we hope our donors can do instead is to remember us once a month and make a monthly food donation. Our newsletters can help provide a prompt – simply sign up for our monthly newsletter.
Food from the Heart has asked for food donations of non-perishable items so that we can stretch our funds over a longer period, but donors who are more comfortable making one-time or monthly cash donations may do so as well.
Where should I donate to?
Please deliver food donations to 130 Joo Seng Road #03-01 S368357 on any weekday (except public holidays) 9am – 5pm. If you're delivering the items yourself, you can leave them outside our warehouse on weekends as well.
What food items should I donate?
Our wishlist is constantly updated on our website. Please refer to it before deciding on what to donate.