What is the qualification to be a volunteer?
There is no entry requirement to volunteering at Food from the Heart. There are many different ways that you can help - take a tour of them here or you can even suggest something to us!
Hear what our Bread Programme volunteers Jin and Isaac have to say about their experience here.
What are the different volunteering opportunities available? How do I sign up for them?
Food from the Heart needs volunteers for many duties including food packing, event facilitating and graphic design work. Go through a tour of all our volunteering opportunities and sign up here or even float an idea to us.
How do I sign up to deliver food packs door to door?
Food from the Heart has partnered courier uParcel to deliver our monthly Community Food Pack and School Goodie Bag food packs from the Food from the Heart warehouse to thousands of beneficiaries door-to-door amid the COVID-19 outbreak. To volunteer to deliver these food packs, you will need to
Please email volunteer@foodheart.org stating that you would like to help out with food pack deliveries.
What is the standard operating procedure for door to door food pack delivery via uParcel?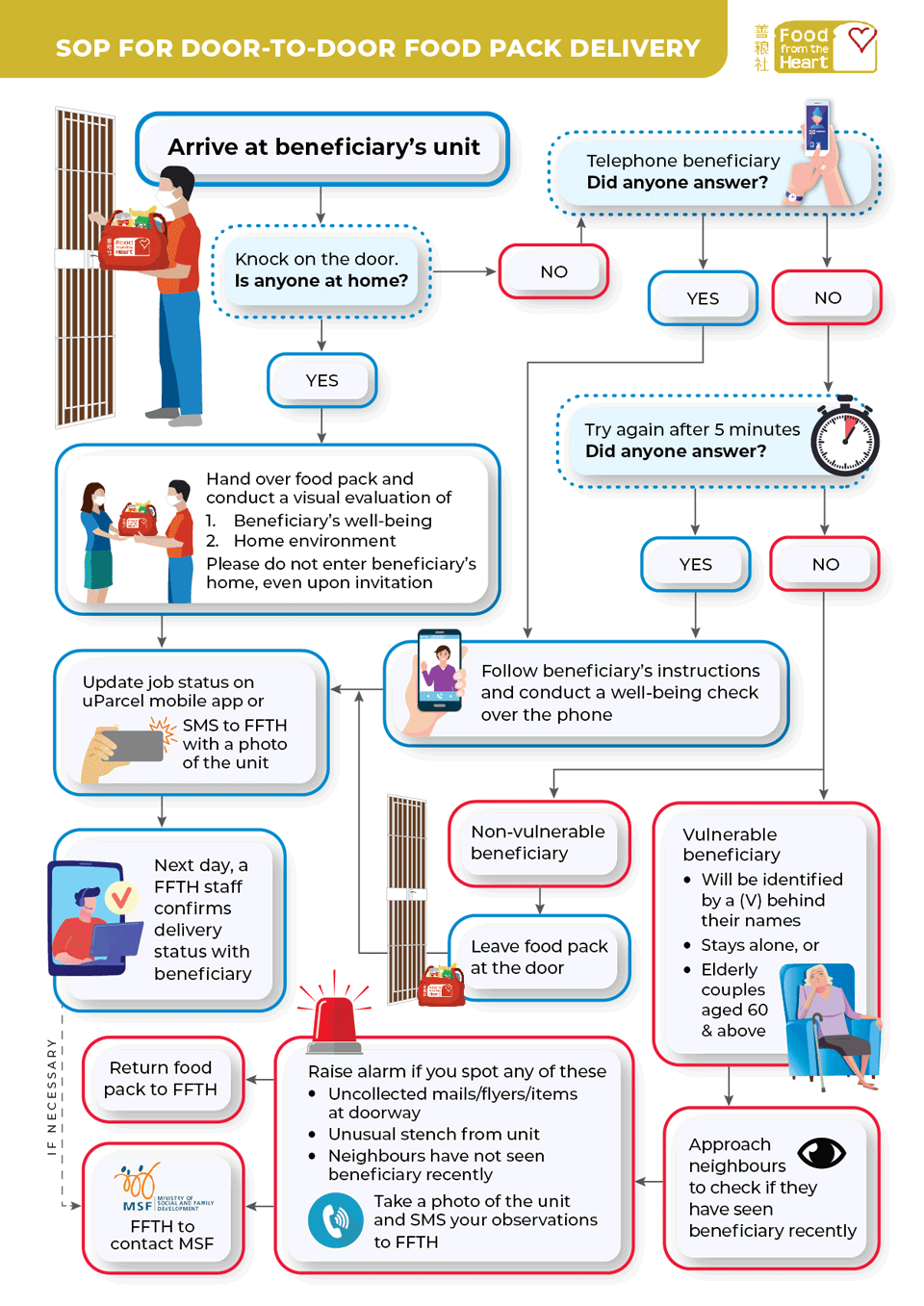 Why are there no weekend volunteering opportunities on the Volunteer Portal?
Our weekend volunteer sessions happen on an ad hoc basis. You can subscribe to our volunteer mailing list to receive email updates of new volunteer sessions if you have not yet done so.
How do I get my Volunteer ID?
An email containing your Volunteer ID will be sent to the email address that you signed up with on the Volunteer Portal. Please wait 3 – 5 working days for the email.
Does Food from the Heart provide a letter of proof of the hours I have volunteered?
Yes, you will need to have volunteered with us for a minimum of 10 hours before a letter of participation is issued upon request.
Do I need to attend a volunteer's briefing beforehand?
You will be informed via email in the case where you are required to attend a volunteer briefing, typically for our Bread Run programme or larger-scale events. Volunteers helping out with food sorting and packing at the warehouse are not required to attend a volunteer's briefing beforehand – it will be done on the day itself.
How to use the Volunteer Portal?
Please click here to view the volunteer portal user guide.